Volunteer/Stewardship
Mountains Restoration Trust Volunteers
Published 11/04/2014 9:44 AM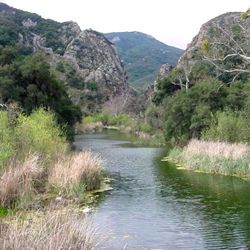 No matter how many acres MRT owns or manages, no matter how many grant awards we receive - our organization is really measured by the people whose lives we touch. Volunteers are the heart and soul of the land trust movement. Without the dedication and devotion of people like you - the volunteers - the preservation and protection of this nation's natural resources could not happen. We need your help right here in southern California. Please help us in our efforts to preserve the beautiful Santa Monica Moutains. As a MRT volunteer, you will experience nature and conservation firsthand. You will meet people who share your interests and passion, and you WILL MAKE A DIFFERENCE. Join us - for an hour, a day, a week, a lifetime.
MRT Volunteer opportunities
---
Docents Guides who lead hikes and tours for school and adult groups. Love to help people explore the great outdoors.
Speakers Do you like meeting people and sharing your knowledge? This is for you. Speak to groups about various environmental stewardship issues, and discuss MRT programs.
Newsletter Creative people who can write about the mountain experience, natural habitats and land restoration for the Trust's quarterly newsletter.
Supporters Help MRT build its constituency and increase participation.
Fieldwork Rewarding outdoor work, helping MRT's restoration efforts.
Administrative Help keep our office running.
Many more Contact us if you have an innovative idea, or can contribute your expertise to a very worthwhile cause - saving our environment.
MRT Internship opportunities
---
Are you looking for hands-on experience in the areas of environmental sciences, public relations, event planning, community outreach, real estate, or administration? MRT offers many opportunities to help your future career while supporting a progressive effort in local environmental protection. Contact Debbie Sharpton at dsharpton@mountainstrust.org or call 818-591-1701 ext. 205.
Visit Mountains Restoration Trust for more information.