Silvery Blue (Glaucopsyche lygdamus )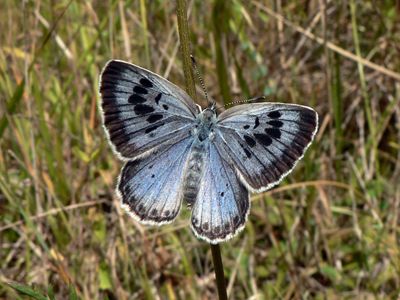 Glaucopsyche lygdamus, the silvery blue, is a small blue butterfly native to North America. Its upperside is light blue in males and dull grayish blue in females. In both sexes, the underside is gray with a row of round spots of variable size depending upon region. The silvery blue is found over much of the western United States and most of Canada.
One subspecies, the Palos Verdes Blue (Glaucopsyche lygdamus palosverdesensis), is a endangered blue butterfly native to the Palos Verdes Peninsula in southwest Los Angeles County, California. As its distribution has been proven to be limited to one single site, it has one of the best claims to being the world's rarest butterfly.
Source: Wikipedia