Summer Holly (Comarostaphylis diversifolia)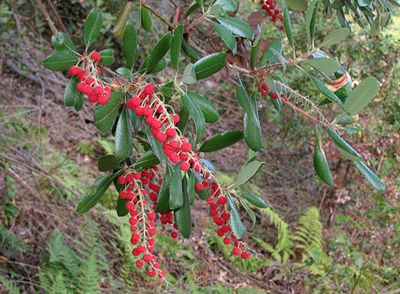 Comarostaphylis diversifolia, summer holly or California comarostaphylos, is a species of shrub in the heath family. It is native to Southern California and northern Baja California, where it grows in coastal chaparral habitat.
It has dark green and glossy evergreen leaves and gray shredding bark that exposes mahogany and tan sections underneath. Clusters of pale colored urn shaped flowers attract hummingbirds in spring, and large drooping clusters of dark red berries are fed upon by birds in late summer.
ource: wikipedia.org and