Special Projects
Don Wallace Connector Trail
Published 9/24/2014 9:53 AM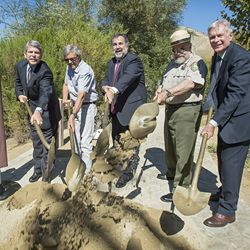 Third Supervisorial District
Named for a local outdoors enthusiast, planned trail will greatly enhance recreational opportunities, and is the result of historic multi-agency cooperation
At approximately 1,700 linear feet, the Don Wallace Multi-Use Trail Connector will not be among the longest trails maintained by the Los Angeles County Department of Parks and Recreation. But don't let its size fool you: This historic trail, named for a local advocate who pushed for its creation, will have a tremendous impact on the opportunities available to the growing number of people across the region who enjoy trail recreation.
On Sept. 24, Los Angeles County Supervisor Zev Yaroslavsky, Department of Parks and Recreation Director Russ Guiney, Wallace and a host of others joined in Calabasas to break ground on the trail connector — which, upon its completion, will become the first formal multi-use trail to cross under the 101 Freeway. Historically, trail users in the area have ridden or hiked on freeway overpasses or passed illegally through stormwater culverts maintained by Caltrans.
The Don Wallace Multi-Use Trail Connector will enable safe passage under the highway, and provide connectivity to the Calabasas Cold Creek the Los Virgenes Creek trails, as well as the Malibu Creek State Park trail system.
Now underway, the project is being completed in cooperation with the Department of Public Works, Caltrans, the California Department of Fish and Wildlife, the Army Corps of Engineers and the City of Calabasas.
"Safe trail connectivity is a very important concept to those enjoy outdoor recreation in Los Angeles County, and that is underscored by the willingness of so many partners to come together and make the Don Wallace Multi-Use Trail Connector possible," said Supervisor Yaroslavsky, whose office spearheaded the project. "For generations to come, those fortunate enough to find themselves on this trail will be able to connect with nature and stay healthy through the endless number of recreational possibilities that it will open up."
With creation of the connector trail, all of the regional trail alignments will connect some of the farthest north reaches of the County to coastal areas. Speaking at the groundbreaking, Wallace, a retired firefighter who strongly advocates outdoor recreation, noted that the trail named in his honor will enable trail users from throughout Los Angeles County to reach the Pacific Crest Trail, which stretches from the U.S.-Mexico border to the U.S.-Canada border.
"I'm so excited to see that this is finally going to happen," he told the assembled well-wishers. "I hope to be back for the grand opening, and look forward to seeing you all there!"
With interest in trail recreation on an upswing, Guiney said the Department of Parks and Recreation is equally pleased that the Don Wallace Multi-Use Trail Connector is coming to pass.
"Trail recreation is increasingly popular in Los Angeles County, and we are proud to partner with Supervisor Yaroslavsky on such a worthwhile project named in honor of such a worthy individual," said Department of Parks and Recreation Director Russ Guiney. "The groundbreaking on the Don Wallace Trail marks the beginning of an exciting time for trails in the area, and we look forward to the day when people will be able to enjoy all that it has to offer."