News & Events
Join Us for Barger's Trail Blazers on October 21st
Published 9/01/2018 12:00 AM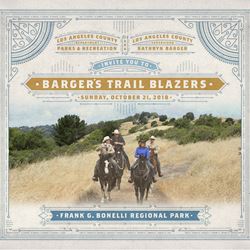 LA County is happy to announce Kathryn Barger's second annual trail ride! We had so much fun last year at Castaic Lake in the Santa Clarita Valley and are excited to host it at Frank G. Bonelli Regional Park in San Dimas this year on Sunday, Oct. 21. The pancake breakfast will start at 7 a.m., the trail ride will kick off at 9 a.m., and a barbecue with live country music will follow. Non-riders are encouraged to come to enjoy the food! Tickets are $30 without the cost of the horse rental. We hope to see you there!
You can purchase your event ticket here.
To rent a horse, call (760) 245-7695.