California's "Super Shroom"
After a Record Winter of Rain, California Is Experiencing a "Super Shroom"
California's super bloom season gets a remix: Here's where to forage, plus some fun(gi) tips for experiencing the bounty of edible mushrooms.
By Mae Hamilton
March 23, 2023
https://www.afar.com/magazine/the-essential-guide-to-californias-super-shroom
Oyster mushrooms. Chanterelles. Chicken of the woods. Mushrooms are more than abundant in California's 1.6 million acres of forests, where enthusiasts can usually forage for fungi from mid-October to mid-April. This year, thanks to an abundance of rainfall driven by 29 atmospheric rivers that have hit California since October 2022, 'shroom hunters are in for a treat: a hotly anticipated "super shroom" event. Here's what you need to know about it.
What is a "super shroom"?
Modeled after the term "super bloom" (a phenomenon where California's deserts get a higher than average yield of wildflowers), a "super shroom" is a colloquial term for when an unusually high number of both common and rare mushrooms begin to fruit after a period of heavy rainfall. During periods of prolonged drought, many species of mushrooms become dormant, and when rain finally does come, thousands can sprout all at once.
Whereas foragers might have had to venture deep into the wilderness to find their favorite fruiting bodies in the past, mushrooms are popping up in every nook and cranny across California—including city parks and other urban areas. Fungi thrive in moist conditions, and given that the rainy season of 2022 has been one of the wettest on record in the past 15 years, it's a good time to be a mushroom (and to be someone who enjoys eating them).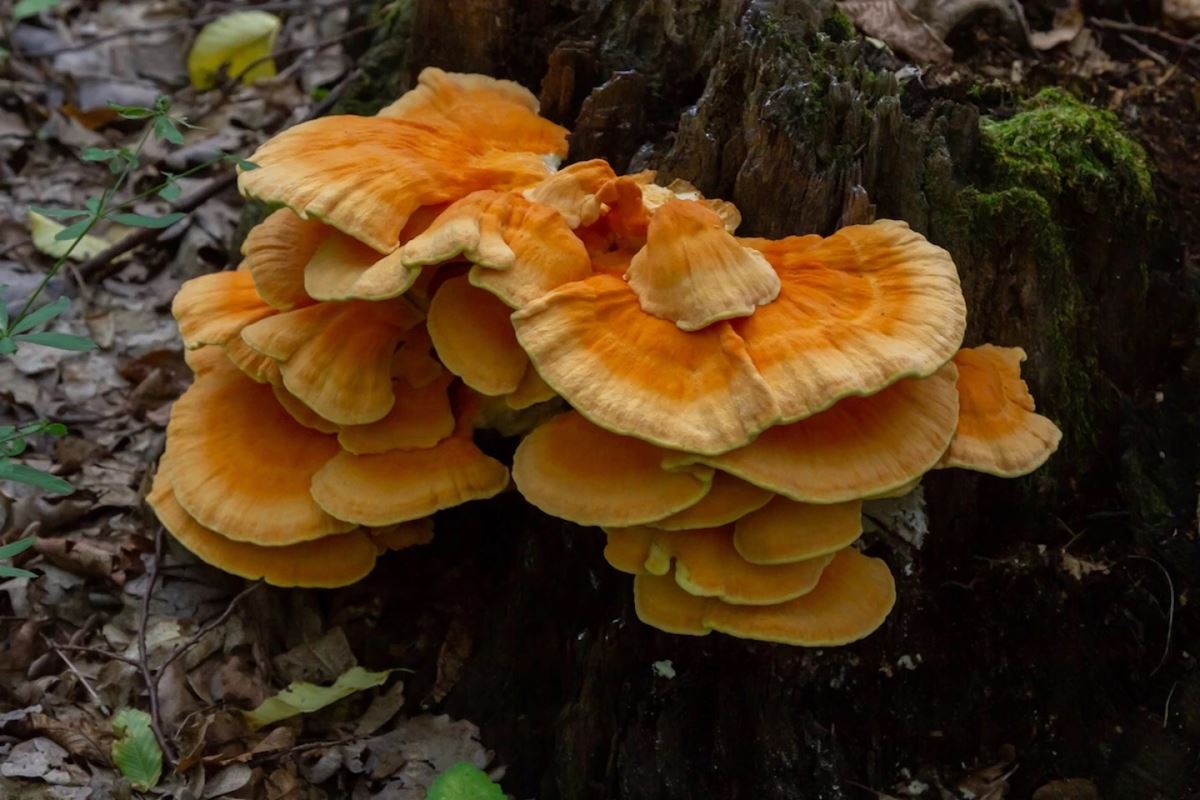 Chicken of the woods mushrooms are known for their meaty texture—and they taste a lot like chicken! Photo by olko1975/Shutterstock
How to experience a super shroom
Thankfully, you won't need to travel far to see the super shroom because many species of mushrooms are growing within the city limits of San Francisco and even Los Angeles. However, state and national parks are still great places to see loads of fungi in their natural environments. (If you do decide to hunt for mushrooms in these locations, be sure to stick to designated trails and areas. Going off-trail is frowned upon and, at times, illegal.)
If you would like to forage for your own mushrooms, it's best to visit national forests or land overseen by the Bureau of Land Management, where visitors are allowed to roam freely over public land. Every park and forest will have different rules and permit requirements, so check the rules of the particular destination you're hoping to visit. It's never OK to forage mushrooms from private land, no matter how perfectly positioned to the roadside or sidewalk a specimen may be. Always ask for permission first.
If you are heading outdoors, bring a hat, bug repellent, sturdy hiking shoes, water, a reusable water bottle, and a generous amount of sunscreen with you. Lightweight, long-sleeved shirts and pants can protect foragers from itchy, irritating plants like poison oak and ivy. If you're planning to harvest mushrooms, pack:

A sharp pocket knife: Use to cleanly extract mushrooms from the ground, check specimens for worms, and clean stems
A garden trowel: Some species need to be completely excavated and removed from soil to be properly identified. A trowel can help make extraction easier.
A soft-bristled brush: Use to clean dirt and other detritus from the gills, ridges, and pores of mushrooms.
A mushroom container or basket: This doesn't need to be anything special—just something to hold your harvest so it doesn't get dirty while you're foraging.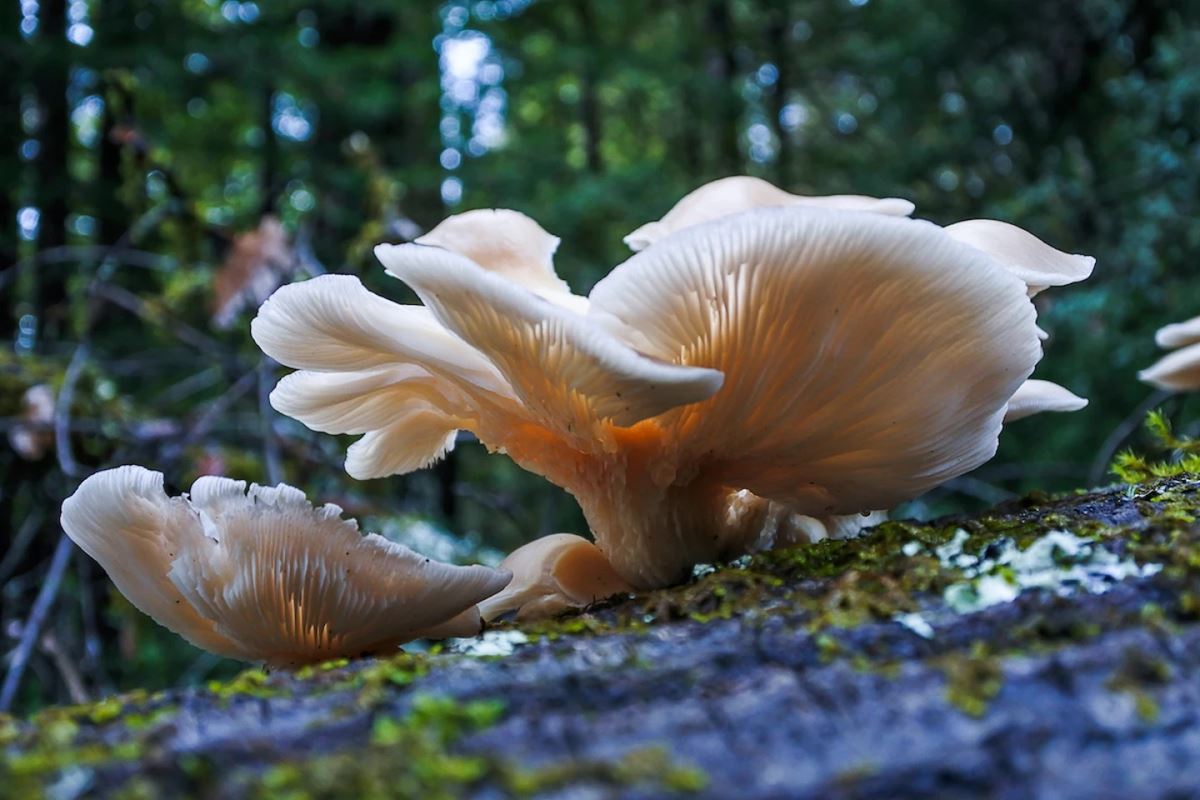 Mushrooms are decomposers that thrive on detritus—check fallen logs and stumps. Photo by BenderPhoto/Shutterstock
So you want to forage mushrooms? Here's what you need to know.
There are over 11,000 named species of mushrooms in Northern California and an estimated 3,000 different kinds of fungi that live in California. Though only three deaths per year result from mushroom consumption in the United States, eating toxic mushrooms can still make you seriously ill. There are several precautions you can take:
Forage with an expert first and never eat anything you're not 100 percent sure of. Of the thousands of different types of mushrooms, very few are edible varieties (there are about 20 that grow in the USA) and there are many poisonous and deadly look-alikes. Simply touching a poisonous mushroom will not make you ill—they only have the potential to be dangerous when consumed. A mycologist or experienced mushroom forager can help you identify the right signs to look for and what species to avoid. Consider reaching out to the local mycological society in your area—the Los Angeles Mycological Society regularly organizes events throughout L.A. and Orange County, many of which are free and open to the public.
Learn to read your surroundings. Fungi get their nutrients from breaking down detritus and decomposing organic materials. Keep an eye out for fallen trees (sometimes called nurse logs). Certain types of mushrooms have mutually beneficial symbiotic relationships with living trees. Chanterelles, for example, often grow around oaks, where they help protect a tree's root system and provide it with essential nutrients like nitrogen and phosphorus.
Get in tune with the seasons. Mushrooms' fruiting bodies are more likely to appear after a heavy rain. In Southern California, rain often comes during the winter, making the season a prime time to forage. Fall is a particularly good time to search for mushrooms in Northern California.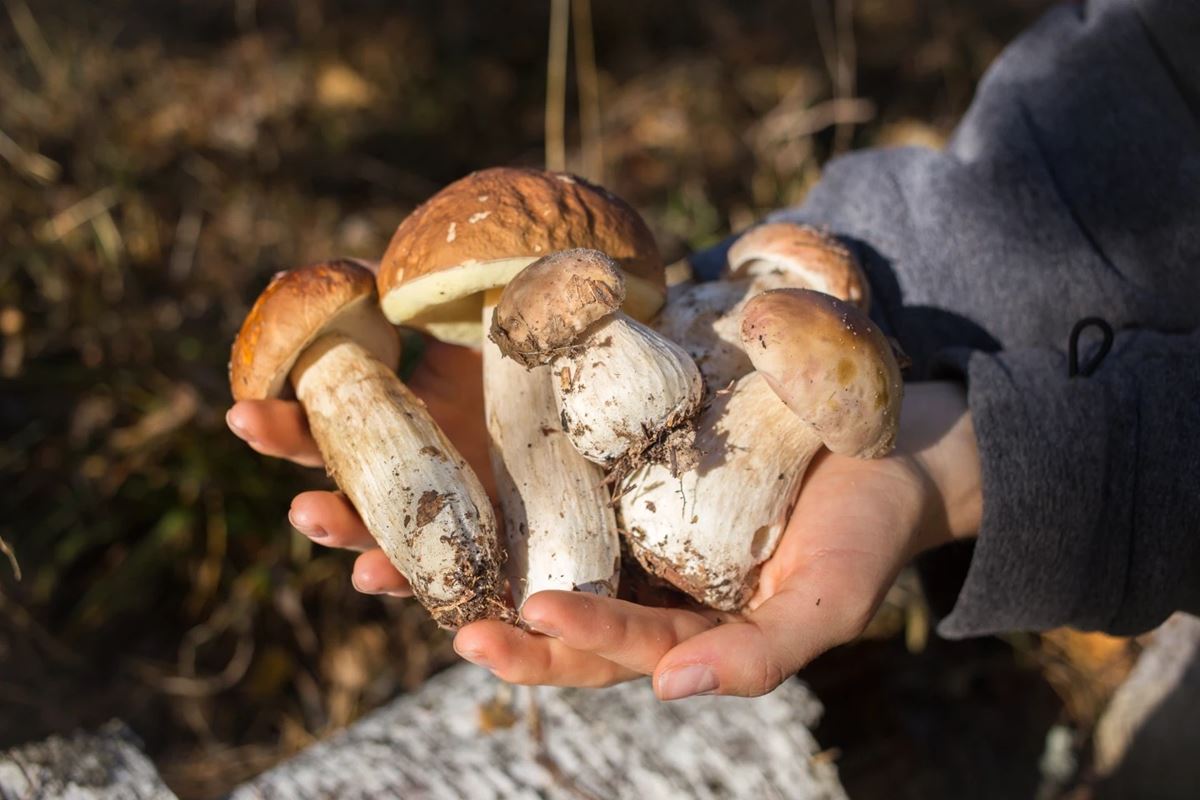 Never eat any mushroom that you can't identify with certainty. Photo by Anna Pasichnyk/Shutterstock
Best places to hunt for mushrooms in California
Californians are lucky to have a wealth of public lands for foragers to comb through. Northern California's redwood forests have long been known to be a haven for mushroom enthusiasts, but thanks to the recent rains, Southern California is also blooming with fruiting bodies and caps. Here are the best places to forage for mushrooms in California:
Los Padres National Forest
Location: 1980 Old Mission Dr., Solvang | See on Google Maps
To call Los Padres National Forest "big" almost feels like an understatement—it encompasses more than 1.7 million acres and stretches from Ventura to Monterey. In Los Padres' huge range, visitors will find a variety of different biomes to explore, from the grasslands of the Central Valley to the redwood forests of the Monterey coast. Look for edible mushrooms like chanterelles, lion's mane, and hericium mushrooms (which apparently taste a lot like lobster). Permits are not required to forage here, but the USDA requests that visitors take no more than what they will use on site. Most areas of Los Padres National Forest are free to visit and camp in, but some areas are managed by the Parks Management Concession Company and require a $10 parking fee—check signage and trailheads to be sure.
Angeles National Forest
Location: 12371 N. Little Tujunga Canyon Rd., Kagel Canyon | See on Google Maps
Angeles National Forest, 18 miles north of downtown Los Angeles, is perhaps one of the most easily accessible green spaces for Angelenos. Encompassing 700,000 acres, the Angeles National Forest includes the rugged San Gabriel Mountains, as well as Mount Baldy, the tallest peak in the range. Mushrooms are usually not abundant in this forest because of Southern California's dry climate, but this year, visitors may find chanterelles, oyster mushrooms, and morels in the area. Similarly to Los Padres National Forest, the USDA asks that foragers only take what they'll consume during their time at the park. Most areas of the forest are free; however, some require an Adventure Pass (day passes are $5, annual passes are $30) to access. Contact your local Forest Service office to purchase an Adventure Pass and learn what areas will require one.
Sequoia and Kings Canyon National Parks
Location: 47050 Generals Hwy., Three Rivers | See on Google Maps
Home to a diverse set of landscapes ranging from towering mountains to deep canyons, Sequoia and Kings Canyon National Parks are home to a wide range of flora and fauna—many of which are edible. Visitors are welcome to collect mushrooms and berries for immediate, personal consumption on site. Larger quantities will require a permit. Vehicle passes start at $35.
Salt Point State Park
Location: 25050 CA-1, Jenner | See on Google Maps
Covering 6,000 acres in Sonoma County, Salt Point State Park is the only state park in Northern California where mushroom foraging is allowed for personal use. There are more than 20 miles of trails for mushroom hunters to scour—it's best (of course) to head out after a heavy rain. Foragers are allowed to collect three pounds of mushroom per day without a permit. Day passes to the park start at $8 per vehicle.
Point Reyes National Seashore
Location: Point Reyes Station | See on Google Maps
Though Point Reyes National Seashore may be better known for its healthy (and cute) colony of elephant seals, this park is also an ideal place to forage thanks to its damp climate and generous mushroom allowance: Visitors can collect up to two gallons of mushrooms per day. There are a large variety of mushrooms that grow at Point Reyes—including several that could be fatal—so it's best to forage with an expert if you're a beginner. Point Reyes also hosts an annual Fungus Fair, where guests can help gather mushrooms and learn about the vital role of fungus in ecosystems with mycologists. There is no entrance fee to visit Point Reyes National Seashore, but overnight camping starts at $30 per night.