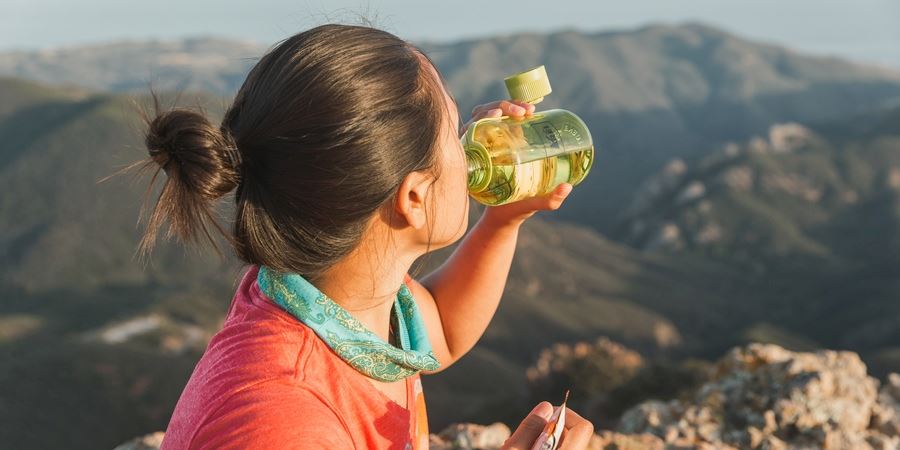 Hot-Weather Hiking Tips
Expert Advice from REI
https://www.rei.com/learn/expert-advice/hot-weather-hiking.html
Backpackers hiking through the desert
Sunny days are perfect for lacing up your boots and heading out in search of an alpine lake, a mountain summit or a dramatic slot canyon. But, along with the sun can come intense heat, and if you don't manage the combination of the two properly, your fun day can turn into a painful and potentially dangerous one.
To learn how to have a good time and stay healthy in hot weather, check out the following:
Planning tips: Choose where and when to hike
Clothing and gear tips: The right clothes can keep you comfortable
Health tips: Protect yourself against sunburn, dehydration, overhydration, heat cramps, heat exhaustion and heat stroke
Planning Tips for Hot-Weather Hiking
Thinking about when and where you'll be hiking are important steps in planning a successful hike in hot weather. Keep in mind that it can take 10 days to two weeks to acclimatize to high heat, so be cautious and take it slow on your first few hikes when the weather warms.
When to Hike
Night sky in the Grand Canyon
Avoid the hottest time of day: The hottest time of day is usually around noon to 3 p.m. On scorching days, it can be best to avoid this time altogether by getting an early start and ending your hike by early afternoon, or heading out sometime after 3 p.m. If you can't avoid hiking during the warmest hours, try to plan your trip so you'll be in the shade or near a body of water during that time.
Go for a night hike: If you live in, or are visiting, a hot locale, scorching temperatures can be uncomfortable (or even unbearable) during the day and hiking at night can bring relief.
Where to Hike
A hiker in a slot canyon
Stay in the shade: Choosing a hike that keeps you under the shade of trees or within steep canyon walls, rather than exposed directly to the sun, is a good idea.
Hike near water: If there's not much shade, but you're near the ocean or a large lake, go for a hike where you can enjoy the cool sea or lake breeze. If you're hiking next to a river, you can dip your hat, shirt or bandana frequently and drape them on your body to keep you cool as the water evaporates.
Clothing and Gear Tips for Hot-Weather Hiking
Dressing appropriately for a hike can go a long way toward keeping you comfortable.
Choose light colors: Wearing light colors that reflect the sun's rays rather than absorb them (as dark colors can) helps keep you cool. Look for shirts, shorts and pants in white, tan or khaki.
Wear loose, breathable clothing: Lightweight, loose-fitting clothing that breathes well will help your body regulate temperature. Nylon and polyester are good choices.
Cotton can be OK: You've heard it before: cotton kills. Cotton has a bad reputation in the outdoors because it absorbs lots of moisture and dries very slowly, which can create an uncomfortable and dangerous situation on wet and/or cold days. But in hot and dry conditions, the moisture can feel good against your skin, and as it evaporates it will leave you feeling cool.
You must be careful when wearing cotton though. Make sure you're OK with the feel of wet cotton next to your skin (some people just don't like it) and that it won't cause chafing if it rubs against your skin. More importantly, if there's any chance you'll be out when the temps dip in the evening, carry a change of clothes or choose to wear synthetics instead of cotton.
Open vents: Some shirts, shorts and pants designed for hiking incorporate vents. Opening these up on a hot day helps improve airflow.
Choose UPF-rated clothing: All clothing blocks the sun's rays to a certain extent, but clothing that has a UPF rating is guaranteed to provide protection. Common ratings include UPF 15, UPF 30 and UPF 50+.
Cover up: It may seem counter intuitive to put extra clothes on in hot weather, but the added coverage can provide necessary protection from UV rays, especially for people with sensitive skin. A lightweight long-sleeve shirt, sun sleeves and a neck gaiter can provide effective protection.
Three hikers wearing a variety of hats to protect themselves from the sun
Put a hat on: A hat provides essential protection from the sun for your face and neck. A baseball cap provides OK shade, but a sun hat with a brim that goes all the way around is even better.
Cool your neck: A bandana, sun-protective neck gaiter or other lightweight cloth can be dunked in water and worn over your head or around your neck to keep the back of your neck cool and covered while the water evaporates. Special polymer-crystal filled neck scarves maintain the moisture for even longer periods of time.
Wear the right socks: Never wear cotton socks (choose wool or synthetic instead) and make sure they fit well. Socks that are too big can have wrinkles that rub and socks that are too small can create pressure points and sock slippage.
Carry a hydration pack: It might seem like a small difference but having a sip tube always at the ready will make you more likely to hydrate frequently than if you have to reach for a water bottle.
Bring a squirt bottle: When the going gets rough, plan a sneak water attack on your hiking buddies, or use the mist setting to create a cooling cloud whenever you need it.
To learn more about hiking in hot weather click HERE