Don't Spark a Wildfire this Fourth of July!
Did you know that 95% of wildfires are human caused? Fireworks are illegal in certain areas of Los Angeles County because each year serious injuries and millions of dollars in property loss occur from wildfires sparked by fireworks, which includes sparklers. Fireworks are not only responsible for long-lasting damage to public lands, but they also frighten and disrupt wildlife and have a negative impact on our ecosystem. With that in mind, it is important to raise public awareness on fire dangers ahead of the 4th of July holiday weekend.
On average, there are more than 18,000 fires sparked each year in the U.S. from fireworks. This is a cause for great concern for public land managers across Los Angeles County given the explosion of illegal fireworks amid the COVID-19 pandemic, coupled with the fact that this year started with the driest conditions on record since the 1850's! According to CalFire records, there have already been 2,721 wildfires across California through June 21st of this year -- that's up from 1,568 wildfires during the same period in 2019.
This week the Angeles National Forest has raised the Fire Danger from "High" to "Very High" in response to the severe threat of wildfires, which can quickly result in catastrophic effects within a forested landscape. All across the Angeles National Forest there are dangerous fire conditions posed by dead grass and hot, dry conditions. A wildfire in the Angeles, with its edges nestled beside densely populated communities, can quickly threaten homes and neighborhoods. "The health and safety of the national forest, its visitors and surrounding communities is a responsibility we take very seriously" says John M. Clearwater, Public Affairs Officer for the U.S. Forest Service. Clearwater noted that there will be extra personnel patrolling the Angeles this weekend, including fire-spotting aircraft overhead. Visitors caught setting off fireworks will face fines of up to $10,000 and six months in jail as the use and possession of fireworks in any national forest is always illegal.
Other local public land managers are also spreading the word to the public and implementing strategies to help stop illegal fireworks. According to Dash Stolarz, Director of Public Affairs for the Mountains Recreation and Conservation Authority (MRCA), "Rangers will be out in full force this weekend assisting groups like Topanga Arson Watch to stop illegal fireworks -- All violators will be cited." The MRCA manages a portfolio of 75,000 acres of parkland in all of the mountains, river and hillside areas surrounding Los Angeles. Much of these lands are within the Santa Monica Mountains National Recreation Area, which less than two years ago was devastated by the 2018 Woolsey Fire that burned a total of 96,949 acres, destroyed 1,643 structures, killed three people, and prompted the evacuation of more than 295,000 people.
Remember fireworks spark wildfire.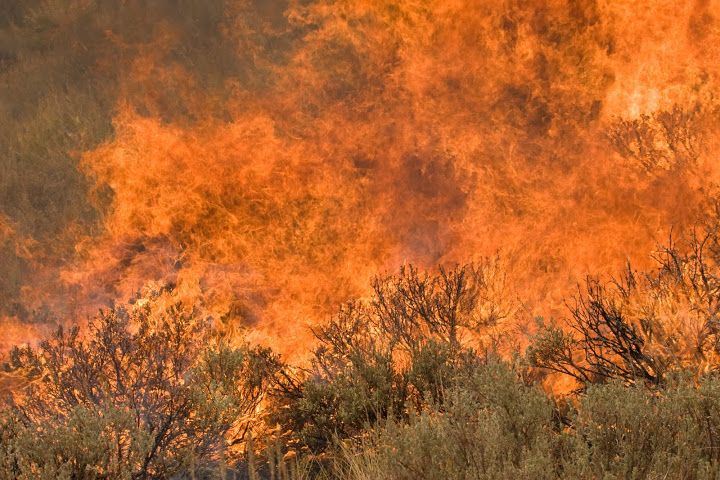 Wildfire Photos by: USFWS