About Trails
Letter from the Director
Thank you for visiting trails.lacounty.gov!
With tremendous support from the Los Angeles County Board of Supervisors, this groundbreaking website is the result of a collaborative effort between the County of Los Angeles Department of Parks and Recreation, the County of Los Angeles Internal Services Department and our partnering agencies — the National Park Service, California State Parks, the Santa Monica Mountains Conservancy and the Mountains Recreation and Conservation Authority.
Why a website dedicated to trails? There is a growing body of research demonstrating not only the wellness benefits of outdoor recreation, but also the vital role that trails play in encouraging and facilitating it. With studies showing their increasing popularity with the public, multi-use trails create amazing opportunities for people to connect with nature while engaging in healthy physical activity.
Los Angeles County's diverse landscape provides unique opportunities to enjoy desert, foothill, urban, and coastal trails that cannot be experienced in any other location. Across the County, trails provide unparalleled benefits and quality of experience for equestrians, hikers, mountain bikers, fitness enthusiasts, bird-watchers and anyone seeking to be immersed in the natural world.
Trails.lacounty.gov provides County residents and visitors with easy, user-friendly access to a variety of resources: a detailed list of trails that includes such vital information as trail length, elevation gain and permitted uses; individual accounts that allow users to rate, review and save personal notes on trails; a locator with the ability to search by city name, ZIP code, trail name or current location; interactive maps that enable users to view the steepness or surface type on trails; a function for reporting trail-specific safety and maintenance concerns; information on safety guidelines and trail etiquette; and downloadable and printable QuickGuides that include trail maps, descriptions, directions, photos and elevation profiles.
There is no doubt: This state-of-the-art website will enhance the experiences of those who choose L.A. County trails and those maintained by our partners in this endeavor.
Now let's get outside, and live life at a trail's pace!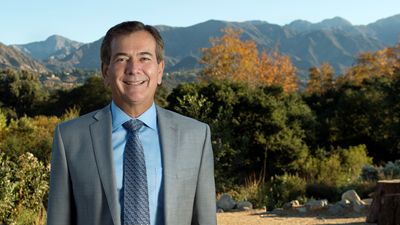 John Wicker, Director
County of Los Angeles
Department of Parks and Recreation