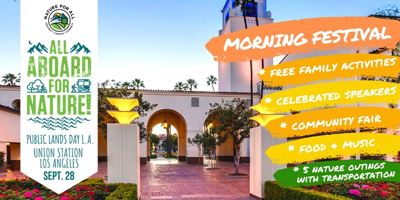 All Aboard for Nature!


presented by the County of Los Angeles
Saturday, 28 September 2019, 8:00 AM - 11:00 AM
Union Station > Trails Adventure
800 North Alameda Street
Los Angeles,
CA
90012
Celebrate Public Lands Day & Access to Parks with Free activities, Celebrated speakers, a Community fair, Food, Music and Nature Trips!
About this Event
We're kicking off Public Lands Day L.A. with the family-friendly ALL ABOARD FOR NATURE! MORNING FESTIVAL at Union Station's South Patio. Then we'll head out for five transit trips to the beach, the mountains, the L.A. River and parks around Los Angeles County. You're invited!
Register here through Eventbrite to let us know you're coming, get a calendar invite, and be first to receive notification when the 5 trip Eventbrites are posted! (See below)
8:00 am-11:00 am -- MORNING FESTIVAL. Enjoy free activities for all ages, food, music, speakers, and a community education fair! Booths will include community organizations, agencies and businesses with tons of great resources and information on:
Free nature trips and programs
Where are local & regional parks and trails?
How can I get involved in environmental protection & sustainable living?
Additional topics: Transit | Social Justice | Family & Health Services | Community & Cultural Services | Local History
9:00-10:00 a.m. -- Speakers Lineup honoring Champions of Outdoor Equity & Public Lands Access. We're recognizing champions who have advanced policies and programs that recognize the importance of access to nature, and communities that most need access to our parks, mountains, rivers and beaches.
Our invited guests include:
10:00 a.m. -- Choose Your Transit to Trails Adventure! Grab your sunscreen and lunch, we're heading out to *five* different nature destinations across Los Angeles County on transit! Seats are limited, so sign up today to join our special guided adventures.
Required Eventbrite tickets will be posted on the event website soon! Register here in Eventbrite to receive notification when they are posted.
Get notified when our 5 trip destinations are open for registration.
Receive event updates and schedule changes.
https://www.eventbrite.com/e/all-aboard-for-nature-public-lands-day-la-morning-festival-registration-66549167351
For more information contact

Araceli Hernandez

at

N/A

or

araceli@lanatureforall.org.